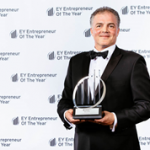 Mark Zoske, CEO of SaltWorks® was named EY Entrepreneur Of The Year™ 2014 Pacific Northwest in the distribution and manufacturing category. The award recognizes outstanding entrepreneurs who demonstrate excellence and extraordinary success in such areas as innovation, financial performance, and personal commitment to their businesses and communities.
SaltWorks was the first and remains the largest gourmet salt company in the world. Mark Zoske has worked for 13 years to alter the public perception of salt from basic commodity to 2-cent luxury per pinch. Zoske's inherent commitment to perfection and his perseverance differentiate SaltWorks salt from any other salts on the market. Beyond making all-natural gourmet salts more accessible to consumers, he has completely revolutionized the way the masses approach everyday salt use.
At the company's inception, salt was enemy number one, low-sodium diets were the doctor's orders, and few people made any distinction between refined and unrefined salt. Rather than being intimidated by the misinformed public, Zoske seized the opportunity to promote change.
SaltWorks has always been about the integrity of the product and appreciating the nuances of all-natural salt. Mark Zoske earned the trust of his customers since day one based on this simple premise: a better option at a competitive price.
For this reason, Mark Zoske spends countless hours dreaming up innovative ways to ensure an unmatched quality and variety of the unadulterated salts that SaltWorks both imports and manufactures, while also promoting the benefits of using these unrefined salts over refined options.
"I'm genuinely honored by the accolade. I've just always believed in our product and our ability to manufacture and distribute it at a standard that speaks for itself," Zoske explains.
Currently, SaltWorks has more than 60 employees and operates out of a 130,000 square foot manufacturing facility. It has been honored on the Inc. 5000 list every consecutive year since 2007 and has an A+ rating with the Better Business Bureau.
As a Pacific Northwest award winner, Zoske is now eligible for consideration for the Entrepreneur Of The Year 2014 national program. Award winners in several national categories, as well as the Entrepreneur Of The Year National Overall Award winner, will be announced at the annual awards gala in Palm Springs, California, on November 15, 2014.