By Zach Calvello
Hammond's Candies has come a long way since Carl T. Hammond first founded the company in 1920 after leaving school to apprentice for a local candy maker. Today, Denver-based Hammond's Candies is one of the best known confectioners in the country, renowned for its outstanding quality and dedication the craft of candy making. The company handcrafts all its confections in open kettles and small batches. All ingredients for its candies are sourced locally, and supplies are purchased from American companies.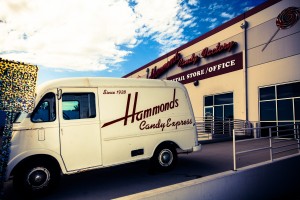 Since welcoming Andy Schuman to the team as the President and CEO of Hammond's Candies, the company has seen enormous growth. "When I first started with the company in 2007, we were primarily known as a Christmas confectioner. I saw this as a perfect opportunity to begin branching out," says Schuman. "I wanted Hammond's Candies to be known for everyday candies, not just for its holiday ones."
With this in mind, the company began to expand its horizons in all areas of candy making, sales and distribution. Hammond's Candies now delivers its candies throughout the nation. The company's products are primarily found in "mom and pop" shops across the United States, but distribution expands far beyond this. "We are found in larger retailers as well, but because of how our products are crafted, it makes sense that smaller retailers like to carry our products," said Schuman.
As Hammond's has increased the scope of its distribution, the company has had to develop a precise distribution plan. To get ready for the holiday season, for example, Hammond's Candies now prepares nearly a year in advance, ensuring that all orders are met with exceptional veracity.
Social media has been hugely important to Hammond's as a tool for attracting business. The company regularly updates its Facebook, Twitter and Pinterest accounts. Schuman says, "Pinterest has been a great place to show consumers what they can do with our candies."
Hammond's Candies enjoys keeping its social media sites entertaining and exciting, driving recurring visits from followers. Throughout the year, Hammond's Candies holds polls on its Facebook page in order to get direct feedback from its fans. This is a method that Schumann finds particularly useful in determining new product direction, and he has employed social media in a number of ways, including recently seeking advice about names for his newly adopted dog. "It was exciting to see how many names we received from this poll," he says. "We were getting names like Butterscotch, Cupcake, Taffy—just all sorts of fun ones."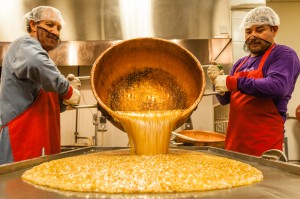 Plant tours have also been crucial in whetting consumers' appetites for Hammond's Candies. The company offers free tours throughout the year and attracts a wide audience. With more than 100,000 people coming through Hammond's Candies facilities every year, the company has the opportunity to introduce new candies to the public and get immediate feedback. Schuman particularly enjoys these tours, saying, "I want people to see the hard work that goes into our creation process, and it's an ideal way to see what's working and what's not."
Hammond's Candies has launched a line of cotton candy that is currently shipping out, and the company is readying its new Whoopie Pie Chocolate Bar for distribution starting in the next few months.