Compared to other top-selling cow's milk ice creams, LaLoo's Vanilla Snowflake has about half the calories, one-third the fat, is seven grams lower in sugar for folks watching their glycemic index and is easier to digest since goat milk is naturally lower in lactose and the fat particles are smaller in goat's milk than in milk from cows.
To encourage millions of ice cream fans across America to "Give Goat a Chance" this summer, LaLoo's Goat's Milk Ice Cream is offering the chance to win an ice cream social party and other goat goody prizes to everyone who follows LaLoo's on Facebook or Twitter (@LaloosIceCream) and shares an ice cream moment, photo or memory using hashtag #GoGoat throughout National Ice Cream Month in July. Prizes include a "Go Goat" Ice Cream Social party for 20, hosted by LaLoo's; 10 goat goody packages consisting of a cooler full of LaLoo's, a "Give Goat a Chance!" t-shirt, and a "Get Your Goat On!" tote bag; and daily free pint coupon winners.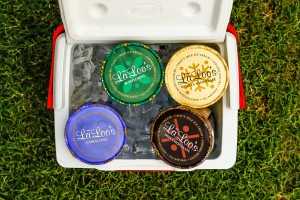 LaLoo's is available nationwide in four gourmet flavors, including: Deep Chocolate – rich dark chocolate ganache made with volcanic black cocoa and raw bittersweet cacao from acclaimed chocolate maker Scharffen Berger (77 percent cacao) – truly a chocolate lover's dream; national award-winning Vanilla Snowflake, so delicate and yet so creamy you can serve it with everything from fresh berries to gazpacho (called "the holy grail" of ice cream by the Wall Street Journal); Rumplemint, which combines fresh organic garden mint (not peppermint) with a bold excess of dark chocolate tiles, slow churned for extra creaminess; and Capraccino, a gold medal-winning coffee ice cream made from real Italian expresso beans. To find LaLoo's at a store near you, go to: laloos.com/shop. Attendees at the Summer Fancy Food Show in New York City June 29 through July 1 can get their goat on with LaLoo's Goat's Milk Ice Cream in LaLoo's booth #4066.
Founder "LaLoo" (Laura Howard, based in Petaluma, Calif., who is also Founder of the Lexicon of Sustainability) has some great new recipes and real simple serving suggestions to help you get your goat on this summer that you'll find at blog.laloos.com, like "Lemonade Stand" – just add lemonade powder on LaLoo's Vanilla Snowflake (her daughter's favorite); fresh berries macerated in Prosecco atop LaLoo's Deep Chocolate for the 21+ crowd; and Capraccino topped with Honey Sesame Brittle.