Orange tongues and fingers, grease stains, high fructose corn syrup, saturated fat, high calorie counts are the telltale signs of cheese-flavored chips, crisps and crackers.
Until now. Mr. Cheese O's an all-natural, crunchy, delicious, and fun O-shaped cheese snack has announced its launch at Natural Foods Expo West. Mr. Cheese O's comes from Sonoma Creamery, an artisan cheese company based in California's wine country, that makes hormone free, 100-percent natural, gluten-free cheeses. The new healthier, wheat-free, corn-free snack comes in four indulgent varieties, — Original, Cheddar, Tuscan Herb and Sweet Chili — with 10-grams of protein per 1-ounce bag, using organic quinoa and other ancient grains.
Mr. Cheese O's is a snack every kid will crave and every parent will feel good about serving – not to mention adults craving it themselves! Mr. Cheese O's will be available in the deli section of national grocery and convenience store chains starting this June.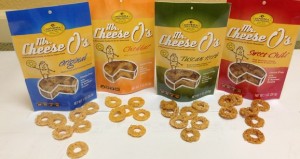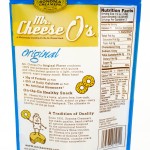 Mr. Cheese O's handcrafted all-natural cheese and O-shaped bites that contain no artificial ingredients or artificial hormones. They're gluten-free, preservative-free, corn-free and wheat-free. Made from organic quinoa and other ancient grains, they contain just 75 calories per serving and 150 calories for the 1-ounce pack. There are 10 grams of protein and 25 percent of the daily value of calcium in each pack, with no trans fat, 0 grams of sugar and 6 grams of carbohydrates. The list of ingredients is short, clear and pronounceable.
"As parents, how can we trust snack products that use ingredients with names we can't even pronounce?" said Sonoma Creamery's CEO, John Crean. "In a space that's dominated by not-so-good-for-you products, and being a dad myself, I'm proud that our new Mr. Cheese O's product is an extra tasty, crunchy real cheese snack with a clean label and all natural ingredients that parents can feel good about giving their kids – and maybe saving a few for themselves, as well."
Mr. Cheese O's is set to roll out nationwide in all four varieties early this summer. One-ounce packs of Mr. Cheese O's will retail for $2.99. Learn more at http://mrcheeseos.com and like Mr. Cheese O's on Facebook at http://facebook.com/mrcheesesos.