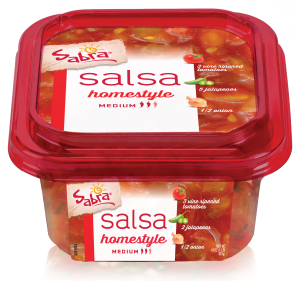 If you don't already sing to tomatoes, you may soon find yourself rethinking your salsa. Known for its freshly flavorful dips and spreads, Sabra® Dipping Company has relaunched its eight refrigerated salsas to the sweet sound of farmer serenades. To underscore the loving process with which Sabra prepares its line of salsas, the brand is featuring in-field farmers singing to vine-ripening tomatoes in its first salsa advertising campaign. Salsa fans are invited to join the fun by sending sweet nothings by way of social media with the hashtag #SalsaLove
"The commercials are a fun take on nurturing growing tomatoes for a delicious product that is filled with love," said Eric Greifenberger, Director of Marketing at Sabra. "From our ripe red tomatoes to our crisp onions and peppers, our farmers and chefs are meticulous in their care and selection of vegetables for a fresher-tasting salsa. Believe it or not, research has shown singing to plants makes them grow better. We certainly don't see any harm in that."
Sabra's line of refrigerated salsas includes Homestyle Medium, Homestyle Mild, Mango Peach, Restaurant Style, Roasted Garlic, Pico de Gallo, Southwestern and Garden Style. The newly relaunched recipes feature more crisp vegetables for a fresher, chunkier salsa bursting with flavor. The company uses only vine-ripened tomatoes, handpicked by Sabra's farmers. The nature of the process inspired Sabra's campaign theme of "Made with Love" developed with creative agency strawberryfrog.
"Sabra goes over and above to create a better tasting salsa. We were inspired by the passion Sabra has for their salsa," said Ant White, strawberryfrog's creative director on Sabra. "Known as the brand behind America's favorite hummus, we wanted to help Sabra share its salsa story in an engaging way. Getting farmers to sing REO Speedwagon's I'm Gonna Keep on Loving You is just the beginning."
Sabra Salsa's integrated campaign kicked off on June 23. It will run in the Northeast and include ads on Hulu and other video-hosting sites as well as radio ads, banner ads, social media and in-store activities. Sabra will also have four trucks crisscrossing the Northeast to share the Salsa Love with free samples.
The entire campaign directs consumer to the microsite SabraSalsaLove.com. Consumers can share their own love by posting on Facebook, Twitter, Instagram or Vine pages with the hashtag #SalsaLove. The best fan submissions will be shared on the site and may even make it into the next Sabra Salsa ad.
SabraSalsaLove.com is also the host to a summer sweepstakes. One winner will receive a four-day beachside culinary getaway in Southern California, and ten winners each week will receive other great prizes. On Pinterest, fans pinning their favorite recipes featuring salsa will be entered to win additional prizes.