Oatmeal Raisin Cookie Chips distill all the flavor and aroma of a classic cookie into crunchy, shatteringly delicious "thins."   Equal parts nostalgic and new, the discs are designed to inspire love at first bite, and keep cookie lovers reaching into the bag for "just one more."
Oatmeal raisin cookies rank among America's favorite cookies of all time, and they've always been on the short list for Joanne Adirim, the creator of Cookie Chips and Founder/Pastry Chef at HannahMax Baking Company, their manufacturer.   "Our thin, crunchy renditions of other classics like chocolate chip and cinnamon sugar cookies have been so well received that we knew it was time to give lovers of the wholesome oatmeal cookie their due," says Adirim,  "We started with an old family recipe, using whole rolled oats and juicy mini-raisins, and added extra spark with cinnamon and nutmeg."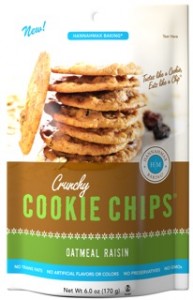 The Oatmeal Raisin Cookie Chips ingredients label reads more like a passionate home baker's shopping list than a typical supermarket shelf offering.  Like all Cookie Chips flavors, this new offering is made only with the finest milled cane sugar, rBST hormone-free butter, cage-free eggs and pure Bourbon vanilla. There are never any preservatives, artificial flavors or colors, trans fats, or GMOs.
All that flavor and texture in such a small space (each cookie is about 2 inches across and only 1/16 of an inch thick) is a winning proposition.   One serving of Oatmeal Raisin Cookie Chips – five cookies — weighs in at just 120 calories.    They're a perfect summer picnic dessert, after school snack, or coffee break treat.
Oatmeal Raisin launches late summer 2014 and joins five signature Cookie Chip flavors – Original Brown Sugar, Cinnamon Sugar, Chocolate Chip, Sea Salted Peanut Butter, and Dark Chocolate Chocolate Chip.
Cookie Chips are available at Safeway, Vons, Pavilions, Whole Foods, Jewel, Fresh Market, Earth Fare, Gelson's, New York City's iconic Zabars, and at specialty grocers and gourmet stores across the U.S. To find a location near you or to purchase online, visit www.crunchycookiechips.com.