Gourmet Treats, a  manufacturer of soft-baked treats from all natural ingredients is introducing its new line of Vegan Cookies and Treats.  With no animal products, these baked goodies have complex flavors, rich in taste and texture, producing a deliciously soft and chewy experience.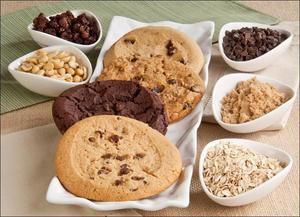 "Our soft baked cookies are made from scratch with deep, rich flavors, yet fit completely with the vegan lifestyle," said Shaffin Jinnah, President of Gourmet Treats.  "Our moist and chewy vegan line of cookies includes Chocolate Chip, Double Chocolate, Oatmeal Raisin, and Peanut Butter 'N Chocolate Chip," added Jinnah.
Gourmet Treat's mission is to deliver delicious, soft-baked treats from scratch with deep rich flavors from all natural ingredients for health-conscious people of all ages.
For more information about the new line of vegan cookies or other soft-baked cookies and treats, contact Shaffin Jinnah at 310.951.7367 or visit www.GourmetTreats.com.