Frontier Soups™ is introducing Little Schoolhouse Alphabet Soup Mix to make mealtime fun and healthy for an upcoming generation of soup lovers.  The new mix is being introduced at the 2014 Summer Fancy Food Show, and samples of the prepared soup will be available at booth #4120.
The Alphabet Soup Mix is in Frontier Soups' Homemade-In-Minutes™ line of quicker-cooking soups and contains multi-colored, organic letter- and number-shaped pasta, said Trisha Anderson, company Founder. The soup is filled with kid-pleasing vegetables—peas, corn and carrots—and is lightly seasoned to appeal to young palates, although its comforting childhood flavors satisfy adult appetites as well, Anderson said.  Home cooks add fresh or prepared chicken to the soup, which is ready in 30 minutes on the stovetop.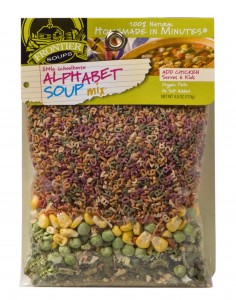 The new mix also has shelf appeal in clear cellophane packaging that allow consumers to see the multi-colored organic pasta layered with the vibrant green, yellow and orange of the freeze-dried peas, corn and carrots, she said.  The soup will be available for order as part of Frontier Soups' Summer Fancy Food Show specials.
"We've been wanting to create an alphabet soup for some time now and fell in love with the colorful letter and number pasta, which has even greater appeal since more and more parents want to choose organic ingredients for their kids," Anderson said.  "With today's busy family lifestyles, our goal also was to create a soup that would satisfy adults craving comfort food flavors because who wants to cook a separate meal for the kids?"
Little Schoolhouse Alphabet Soup Mix is available in 4-ounce packages with a suggested retail price of $5.95-$6.49.  Frontier Soups 35 varieties are all natural with no added salt, preservatives or MSG.  More information is available at www.FrontierSoups.com or by calling 1-800-300-7687.