Super-premium French olive oil producer Chateau d'Estoublon has signed with leading specialty food importer and distributor, New Jersey-based Epicure Foods, which will distribute the fine extra virgin olive oil through its new "Chef's Mandala" division, which is dedicated to importing only a few  exceptional, super-premium European products each year. Chef's Mandala only selects one fine product per regional category, and Chateau d'Estoublon is the brand that made the cut for French premium olive oil.
"We've looked for a long time for a French olive oil with a flavor profile that is consistently high quality over a period of several harvests, which is extremely difficult to do with mono-varietals," notes Epicure principal, Stephen Drezga.  "We've finally found it with Chateau d'Estoublon, whose exceptional oils are also available in single varietals, which we don't find from France," he adds.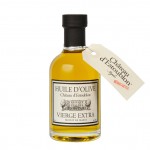 Epicure, which has built a reputation as one of the most respected gatekeepers of specialty food since 1971, will be rolling out Estoublon to specialty food as well as premium restaurants nation-wide.  "We've been hearing overwhelmingly positive feedback on the products, whose exceptionally beautiful packaging and presentation offer retailers great opportunities for eye-catching merchandising, as well as positioning as both food and gift items," adds Drezga.