Litehouse® Foods has long been known for its nationally acclaimed blue cheese as well as its dips and salad dressings and is now announcing the launch of a new line of handcrafted cheese into retail deli. The Simply Artisan Reserve™ Line features ten ready-to-serve products, from Crumbles to Crafted Wheels.
"Our company has a long, proud history of crafting outstanding cheese products and we are eager to share our latest artisanal creations that we are confident consumers will value for taste, quality and convenience," said Margi Gunter, Litehouse Foods Brand Manager.  "Our master cheesemakers have created a gourmet product line for deli cheese lovers in easy-to-serve packages."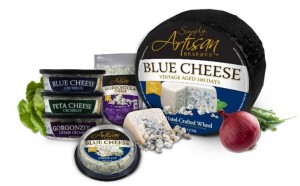 The Simply Artisan Reserve cheeses are prepared in open air vats in small batches and are handcrafted and hand-salted for a gourmet taste. All of the Simply Artisan Reserve products are rBST and gluten-free and use single source milk.  The line includes:
Blue, Feta and Gorgonzola Crumbles: easy-to-serve cheese crumbles enhance any salad, cheese plate or recipe
Gorgonzola  and Blue Cheese Packs: cheese lovers will rejoice when they see these new pouch sizes with more cheese and greater value
Blue Cheese Center Cut: the center cut is the most flavorful, making it the premium part of the wheel.  The center cut's packaging is also a convenient serving tray making it easy for consumers to purchase and serve at their next gathering
Blue Cheese and Gorgonzola Crafted Wheel: the new wheels are aged at least 100 days to develop the full flavor
Initial product sell-through has been excellent since the products' initial rollout in June," said Gunter. The company is anticipating introducing additional SKUs and flavors as demand continues to increase.