Upfront Foods® non-GMO, vegan and kosher certified granolas now will display the Made In USA Certified® seal.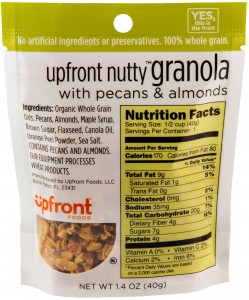 All three granola flavors have achieved the certification designating that from 94 percent to 97 percent of their ingredients are verified as being sourced from U.S. producers, said Gigi Twist, company founder.  The granola itself is produced in Boca Raton for the specialty food, grocery and foodservice industries.
"Our company's name is Upfront Foods, and we want to be upfront with consumers about all aspects of our product, including from where our ingredients are sourced," Twist said.  "The certification was a rigorous process with third-party supply chain verification, including affidavits from all of our suppliers attesting to the country of origin of each ingredient.
Upfront Foods granolas have no artificial ingredients or preservatives.  They also have Non-GMO Project verification, are certified vegan by the Vegan Awareness Foundation, and are OK kosher certified.  All three granolas are designated 100 percent whole grain by the Whole Grains Council, and Straight Up Granola and Straight Up Granola with Cranberries meet USDA Smart Snack Standards for elementary, middle and high schools.
Upfront Foods' three flavors include Straight Up Granola™ with organic whole grain oats and crunchy flaxseed (94 percent Made in USA-certified), Straight Up Granola with Cranberries, which adds sweet-tart cranberries to the mix (95 percent Made in USA certified), and Upfront Nutty™ Granola with almonds and pecans (97 percent Made in USA certified).
Upfront Foods granolas are available in 1.4-ounce pouches with a suggested retail price of $1.49.  Additional information is available at http://UpfrontFoods.com or by calling 1-561-886-0209.