On the heels of the Dairy-Deli-Bake show earlier this month, Tribeca-based Goodie Girl announced expanded distribution of its full line of cookies nationwide, initially focusing on the Mid-Atlantic and Southeastern markets. The company, which specializes in creating gluten-free cookies that are just as good or better than the classics, will increase availability beyond specialty stores into major chains as demand for high-quality gluten-free goodies continues to rise.
"Goodie Girl cookies are for all cookie lovers, including those intolerant to gluten," said Shira Berk, founder and owner of Goodie Girl. "The gluten-free category is experiencing double-digit growth annually and according to some sources, almost a quarter of consumers now have someone at home eating gluten-free. Those are big numbers, but we all know that the key driver of repeat purchase is great taste. We are truly proud of our products and excited to be increasing distribution so that we can share our cookies with more consumers."
Known as the creators of gluten-free cookies that everyone can enjoy, Goodie Girl is thrilled the market for its cookies goes far beyond celiac or gluten-intolerant individuals. Known for her baking skills, Shira Berk founded Goodie Girl in 2010 after a friend requested she reconstruct cookies for a gluten-free child. To her delight, Berk baked her way to the discovery that she could make delicious gluten-free cookies with "just the right amount of wrong." With flavors ranging from Mint Slims and Quinoa Choco-Chip to Midnight Brownie and Oatmeal Raisin, her mouthwatering cookies have been delighting consumers ever since.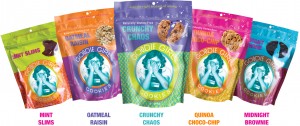 To help make increased production and distribution goals a reality, Goodie Girl recently partnered with Toufayan Bakeries. As one of the largest family-run bakeries in the United States, Toufayan provides production and distribution expertise and has become well-known in the gluten-free market for its line of gluten-free wraps featuring flavors such as Spinach and Garden Tomato.
"The gluten-free food category continues to grow, but what are emerging are true innovators in baking. It is one thing to make a gluten-free item; but Goodie Girl has created incredible cookies, that happen to be gluten-free," said Greg Toufayan, COO of Toufayan. "We take great pride in our line of gluten-free wraps and when I was introduced to the delicious tasting Goodie Girl line, I knew we wanted to help this business grow."
"It's a dream-come-true, to find a home for our very special cookie brand within a family-owned business recognized nationwide for their commitment to authentic, high-quality baked goods. We welcome the expertise that Toufayan brings and an enhanced ability to bring Goodie Girl cookies to both retailers and consumers," said Berk.