Woot Froot is a line of fresh cut peaches and nectarines packed in snack-size bags as well as larger packages that company President Kim Gaarde says has the flavor and texture to provide consumers with a great eating experience. The brand belongs to Fresh Fruit Cuts of Fresno, Calif.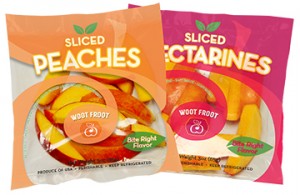 Gaarde's confidence in the new product is backed up by recognition from the United Fresh produce trade association, which has named Woot Froot as a finalist for its 2014 Best New Fruit Product Award as well as by several years of research and development that involved the evaluation of more than 500 fruit varieties and development of Fresh Fruit Cuts' proprietary process for packing the fruit to keep its fresh appearance and texture.
With consumers responding positively to convenience driven items including fresh cut fruits and vegetables, and snack items like carrots and apples continuing to grow in popularity, Woot Froot sliced peaches and nectarines have been a positive addition to the fresh-cut snacking category, Gaarde said. "It has been a whirlwind of activity and opportunity here; we are very excited to see these products become successful in market."
After the success of last year's production, the company was able to make recent equipment upgrades within their facilities, allowing them to add additional SKUs and pack sizes. Woot Froot will now be offered in 3-ounce bags, five-count multipack clamshells, 14-ounce bags, and 10-ounce, 20-ounce and 2-pound trays, and is scheduled to hit retail stores starting May 15. For more information on fresh cut peaches and nectarines, visit www.wootfroot.com or contact Fresh Fruit Cuts at info@wootfroot.com. United Fresh will name the award winners in June.