Crispy Green®, maker of Crispy Fruit freeze-dried fruit snacks and recipient of Clean Eating magazine's CLEAN CHOICE Award, will be exhibiting at the 39th Winter Fancy Food Show in San Francisco, January 19-21 in booth #2417. The Winter Fancy Food Show is the West Coast's largest specialty food and beverage event, featuring the top companies from around the world.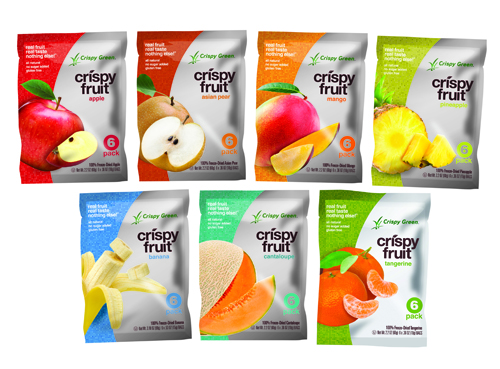 Crispy Fruit is an irresistible, portable snack choice for kids and adults on the go. Crispy Green will be showcasing all of the Crispy Fruit flavors, including its newest taste sensation, Tangerine, in addition to Apple, Asian Pear, Banana, Cantaloupe, Mango, and Pineapple. The company will also be offering tips and suggestions for interesting ways to incorporate Crispy Green into recipes and to add more fruit to everyone's diet.
All Crispy Fruit products are available in the convenient "Grab & Go" six-pack – six single-serving bags in one convenient multi-bag (Suggested retail price: $7.99) – or single-serving bags (Suggested retail price: $1.49 each) that provide approximately one serving of fruit and 55 calories or less per bag. All products are free from preservatives (including sulfides), fat, cholesterol and sodium; are vegan-friendly, peanut/tree-nut-free, gluten-free and dairy-free; and kosher-certified. They also have a long shelf life in order to provide children and adults with a nutritious go-anywhere snack that they can enjoy anytime.
Crispy Fruit is available online and through national distribution in retailers such as The Fresh Market, Harris Teeter, ShopRite, Giant Eagle Market District, Earth Fare, Martin's Food Markets, and numerous regional Whole Foods markets. For more information, please visit www.crispygreen.com. For news updates, information and special offers, follow Crispy Green on Twitter @CrispyGreen and become a fan on Facebook at www.facebook.com/crispygreen.