Moonstruck Chocolate Co. welcomes fall with new collections inspired by warm autumn hues and rich flavors. Whether preparing for ghoulish Halloween festivities, a resplendent Thanksgiving table or simply celebrating the changing seasons, including handcrafted Moonstruck Chocolates in the mix steeps the senses in quintessential autumn experiences.
"With the changing of the seasons, we look to the bounty of the Northwest and highlight the flavors that are prevalent in markets, on kitchen tables, and at favorite local restaurants and watering holes," explains Julian Rose, Master Chocolatier for Moonstruck. "Our fall collections feature spicy, nutty and syrupy notes that conjure memories of old favorites like pumpkin and pecan pies and gingerbread, but we think chocolate lovers also will find new favorites to enjoy."
Pumpkin Patch Collection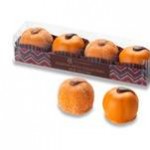 Ideal for an autumn gift bag or place setting, the four-piece Pumpkin Patch Collection offers perfectly molded pumpkins that look almost too good to eat. Filled with velvety pumpkin spice milk chocolate and dark chocolate ganache and enrobed in ivory chocolate tinted naturally with orange, the pumpkins are hand-finished and two are dusted with sugar for a sparkly, textured delight. Suggested retail price is $10.
Monster Mash Collection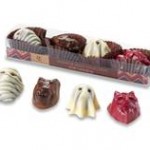 This frightfully fabulous collection features the artistry of Chef Rose, who hand-carved the clay originals from which confection molds were cast. It's no trick; each treat is decorated by hand, and no two monsters are exactly alike. Familiar combinations are captured in milk and ivory chocolate shells, including caramelized tones in the Crème Brulèe Werewolf Truffle, nutty goodness in the Peanut Butter Ghost Truffle, deep citrus in the Blood Orange Devil Truffle, and crunchy Oregon hazelnuts and popping candy in the Popping Praline Mummy Truffle. Suggested retail price is $10.
Spooky Spider Collection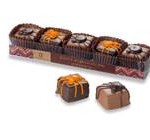 Moonstruck's classic bow-tied truffles get a creepy crawly makeover as Creepy Orange Spider Truffles and Milk Chocolate Spider Truffles. The collection includes three truffles draped with orange spiders guarding a rich, extra-bittersweet dark chocolate ganache within. Two milk chocolate ganache truffles are embellish with foreboding dark chocolate spiders. Suggested retail price is $10.
Flavors of Fall Collection
Capture the best flavors of fall with this six-piece collection, released just in time to lend warmth and comfort to cooler autumn days. Stunning seasonal motifs of foliage, nuts and pies hint at the unique combinations within. The popular confections include a Maple Walnut Mousse Truffle, Pfeffernüsse Spice Truffle, Pumpkin Pie Truffle, Pecan Pie Truffle, Harvest Almond Praline and Plantation Molasses Caramel. Suggested retail price is $13.50.
New Milk Chocolate Tumbled Gingerbread Hazelnuts
Oregon hazelnuts get an extra kick from gingerbread spices before being tumbled with layer upon layer of premium chocolate. These small bites pack big and complex flavor, revealing notes of ginger and cinnamon followed by a toasty crunch under signature milk chocolate. Suggested retail price is $5.
Special Treats and Wrapped Collections
For a hauntingly sweet gesture, give Moonstruck's 10-piece Haunted House Collection. Boxed in a chilling coffin-shaped haunted house, the collection includes one of each of Moonstruck's Halloween-themed truffles, including all four Monster Mash truffles, both pumpkin truffles, both spider truffles, as well as a Frankenstein Toffee Truffle and an Extra-Bittersweet Black Cat Truffle. Suggested retail price is $25.
With fall comes the great pumpkin, and Moonstruck offers two. Satisfy chocolate and peanut butter cravings with a Milk Chocolate Peanut Butter Crispy Pumpkin, or take a walk on the dark side with a Dark Chocolate Rocky Road Pumpkin. At 110 grams a piece, pumpkins are available for a suggested price of $7.50.
Moonstruck offers its signature truffles specially wrapped in seasonally-inspired paper ideal for any gift-giving occasion. The suggested retail price is $20 for the nine-piece collection and $35 for the 16-piece box.
Finally, now is the time to find Dark Chocolate Sea Salt Almond Bark. A superb balance of sweet and salty, this decadent dark chocolate incorporates roasted almonds and Maldon sea salt flakes for a satisfying crunch. Available in one-pound boxes for a suggested price of $25.            
Moonstruck Chocolate's autumn collections are available online at www.moonstruckchocolate.com, at select national retailers, in four Moonstruck Chocolate Cafés in Oregon and at the St. John's store in North Portland. For more information, call 800.557.6666.