Frog's Breath IPA from Coronado Brewing Company has a bright citrus flavor derived from spices, kaffir lime leaf, lemon and orange zest. This unfiltered IPA was adapted from a home-brew recipe developed by two local Coronado homebrewers who are also retired Navy frogmen. Once the beer went on draught at the Coronado pub and restaurant, it was an immediate hit.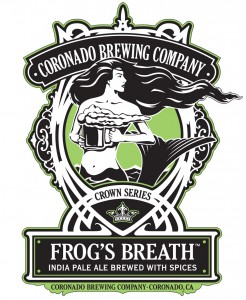 Frog's Breath IPA specs:
Style: India Pale Ale (unfiltered)
ABV: 6.5%
Bitterness: 50 IBU
Package: 22 ounce bottles, draught 1/6 bbl and 1/2 bbl
Release: April 2014 launch through August 2014
Malts: 2-row, C-15, Carahell
Hops: Centennial, Columbus, Wakatu, Sorachi Ace
Yeast: Cal Ale
Where to find it:
Frog's Breath IPA will be sold throughout Canada and 15 states: Arizona, California, Connecticut, Florida, Hawaii, Massachusetts, Nevada, New York, North Carolina, Ohio, Oregon, Pennsylvania, South Carolina, Virginia and Washington.