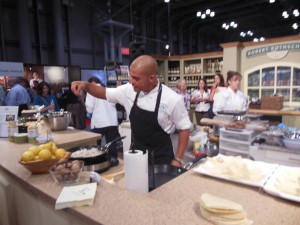 By Lorrie Baumann
Chef Steve Constantine is making and serving shrimp tacos at the Robert Rothschild Farms booth #236 at the Summer Fancy Food Show. He's just sauteing the shrimps and then laying them down on a warm corn tortilla and topping them with a citrus slaw made with the new Citrus Chardonnay Sauce that's part of the brand-new line-up of organic sauces that are debuting at this show.
The other sauces in the line include Whiskey Pepper Cream, which has a little bit of a vinegary tang with mustard and onion and would be great in a potato salad. The Sriracha Teriyaki Sauce in the line is much more teriyaki than sriracha, but it has a long peppery finish that's just spicy enough to be fun. There's also a Blueberry Balsamic, a Pineapple Habanero and a White Wine Creole Sauce. They're all packaged in bottles that resemble old-timey milk bottles for a retro look that underscores the tradition behind them.
Also in the booth, Chef Sean Robertson is sampling appetizers made with Robert Rothschild Farms Buffalo Bleu Cheese Dip. He just incorporated the dip with some chopped rotisserie chicken, celery and onion and spooned the mixture out into phyllo tart shells from the grocer's freezer case. He says the mixture is also nice as the filling for a little tea sandwich, and I suppose that if you can't find the phyllo tart shells at your grocer, nobody's going to quibble if you put it on a nice cracker.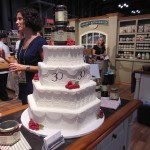 And if you're at the Fancy Food Show, make sure you stop by booth #236 and take a look at the cake with which Robert Rothschild Farms is celebrating its 30th anniversary. And do say hello to the chefs when you sample the goodies.