Mooney Farms has launched a healthy and bold snack line that delivers. The BBQ variety offers a double-dose of sweet and spicy, or choose the Smokey flavor, slow roasted over an open flame just long enough to infuse a rich aroma and taste. This one-of-a-kind snack line combines premium California sun dried tomatoes and select spices to bring you a fat-free, lycopene-rich snack that is full of flavor.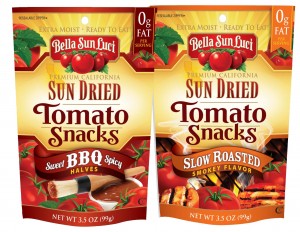 The launch of the new Bella Sun Luci Sun Dried Tomato Snacks makes it easier for anyone who has ever faced the dilemma of choosing between a healthy and delicious convenient snack.
"The new Bella Sun Luci snack bags unites the much-loved barbecue spice and smoky flavors with our premium sun dried tomatoes, and packs layers of great flavor in every bite," said Mary Mooney. "We found that fans of one flavor are often fans of the other — so we made it easier to enjoy them together as the ultimate savory and sweet snack combination."
    

The suggested retail price is $2.99 for a 3.5-ounce bag. The Bella Sun Luci snack bags are available at Safeway banner stores nationwide.