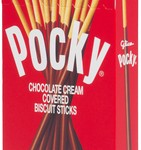 Ezaki Glico
, maker of the Pocky brand of snack products introduces two new products in the candy and snack category. The new Pocky flavor is Pocky Matcha, the Green Tea version of Pocky. The Pocky Matcha joins the popular Pocky Chocolate and Pocky Strawberry.
Péjoy is a new brand under Glico. Péjoy is similar to Pocky, except that the stick is filled with chocolate inside the biscuit. These new products made their debut at the recent Sweets and Snacks trade show.
"In the U.S. snack market we are seeing an upswing in the popularity of snacks and sweets like the Pocky products," said Shunsuke Nakai, President of Glico USA. "From the packaging to the delicious taste, Pocky and Péjoy are fun to share with others. Take to the beach, the mall, or walking around the city – there's plenty of sticks in the box to delight your friends."
The green tea Pocky flavor, Pocky Matcha, is becoming popular for its green tea properties. It is a healthier alternative to a sweet snack, containing the right amount of Ujinotsuyu Matcha for flavor and health benefits.
Péjoy is a new brand of snack products made by Glico. It is like a Pocky turned inside out, so that the filling is on the inside instead of the outside of the biscuit. The Chocolate Péjoy has a rich malt chocolate filling inside the crispy cookie biscuit shell.
Both products are packaged to easily share with friends and to take on-the-go. The top of the box can be opened to display them or to reach in to grab one.
Ezaki Glico U.S.A. corporate offices are in Irvine, Calif. The company adheres to the Glico philosophy "A Wholesome Life in the Best of Taste."