By Lorrie Baumann
In a matter of hours, Riccardo Felicetti of the Pastificio Felicetti will know whether he's eating his Monograno Felicetti pasta with butter and anchovies for a celebration dinner or because that's his ultimate comfort food. "It's very easy, very simple, but it's exactly the pasta meal I eat when I come back from my travels," he says. "This is exactly my comfort food."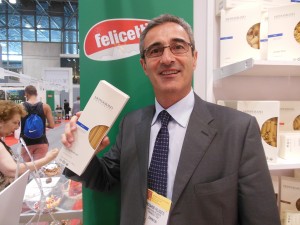 The pasta has been named a finalist for two sofi Awards: one for Best Organic Product and one for Best Pasta, Rice or Grain, and it's the first time that Pasta Felicetti has ever been in the running for the Specialty Food Association's ultimate recognition for outstanding food innovation. Felicetti wangled an invitation for dinner at a friend's New York apartment with the understanding that his favorite Spaghettoni with Butter and Anchovies would be on the menu. "And if I don't get the award, then I will need a heavy comfort food," Felicetti says ruefully.
He believes that his product was considered by the award's jurors because it's a single-source organic pasta from the biggest organic pasta producer in Italy. The buyers from Pastificio Felicetti travel Italy and the world searching for the best organic grains and then combine that grain with pure spring water from springs in the Italian Alps around their pastificio production facility. The pasta's taste and its elegant packaging probably also played a role, he acknowledges.
He hopes that American consumers will appreciate the premium pasta for its great taste and texture, regardless of the degree of al dente to which it's cooked. Even in Italy, there's no consensus about that proper degree of firmness for the cooked pasta, and so the Felicetti pasta is made to be good no matter the al dente preference of the cook who prepares it. "It cooks to your preference," he says. "The most important thing is that you cook it the way you like it."
Putting food into the body is an extremely intimate act, and Felicetti hopes that the consumers who ultimately purchase, prepare and eat his product will choose it because they understand and appreciate that the pasta was made in a modern production facility with 21st century sanitation practices using a safe process that enhances the grain's natural flavors. "I trust that always more people will be interested in knowing what they are eating," he says. "We will continue to offer high-quality product to interested American customers because we believe they will understand the difference between a high-quality pasta and another pasta."
Visit Pastificio Felicetti in booth #2615 at the Summer Fancy Food Show.