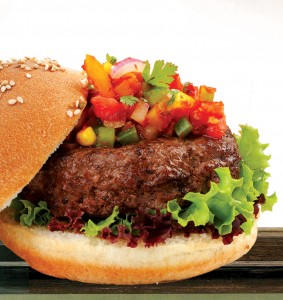 Ingredients
4 ounces Busha Browne's Jerk Smokey BBQ Sauce
2 pounds premium ground beef (80 percent lean / 20 percent fat)
1 tsp sea salt
1 tsp ground black pepper
3 tsp – fresh garlic minced
1 TBSP olive oil, plus extra for brushing the grill
2 ounces mayonnaise
1 dozen slider rolls or dinner rolls
6 ounces romaine lettuce leaves
3 medium tomatoes – cut into 1/8-inch slices
2 medium purple onions – cut into 1/8-inch slices
Technique
Combine 2 ounces Jerk Smokey BBQ Sauce, beef, salt, pepper, garlic, and olive oil. Mix gently with a fork.
Shape the meat into 12 patties and place into your freezer while preheating the barbecue grill to med/high heat.
Oil the grill just before putting the patties to cook for 5 to 6 minutes per side, depending on your preference for medium to well done. Check your patties' temperature with a thermometer before removing them from the grill. The USDA recommends a minimum internal temperature of 160 degrees for ground beef.
Combine mayonnaise and remaining Jerk Smokey BBQ Sauce and dress top and bottom of slider rolls.
Dress sliders with lettuce, tomato and purple onions.
Makes 12.