By Lorrie Baumann
Stonewall Kitchen is showcasing the flavors of maple and bacon in two new products that will put a stamp of excellence on holiday entertaining events. See them in booth #3914 at the Summer Fancy Food Show. Maple Bacon Onion Jam has the sweetness of maple and onions combined with the savory umami of bacon for a flavorful and versatile product. Put it on the cheese tray during the cocktail hour or use it to glaze the dinnertime ham. There's even a pizza recipe — just use the jam as the base sauce on the crust and then top with cheese. For a super-easy appetizer, pick up some flatbread at the grocery, spread it with this jam and toast it in the oven. That would be fabulous, and there's no requirement at all that you tell anyone at all how easy that was to pull off.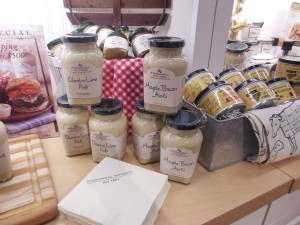 The other new maple-bacon product is a Maple Bacon Aioli that's made with canola oil, real bacon bits and pure maple syrup. Try it as a sandwich spread, especially on a BLT, just use a dollop on grilled meats to add some extra flavor, or you could even use it as a dip for fries or vegetable sticks. After tasting it, I can hardly wait to slather it over some chicken pieces, bake that in the oven and serve it to somebody I love.
Stonewall Kitchen is also introducing a second aioli — this one a Cilantro Lime Aioli. Use this one to top fish tacos of other summertime Mexican dishes. Remember that commercial in which the hamster in the plastic ball points out that the dinnertime tacos aren't going to eat themselves and then the young woman bounces in anticipation? "Oooh, tacos!" Well, that's the reaction this Cilantro Lime Aioli would get.
The Maple Bacon Onion Jam retails for $7.95, and the aiolis retail for $7.50 for a 10.25-ounce bottle.