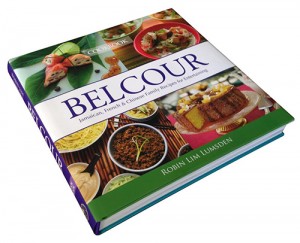 Belcour Blue Mountain Preserves, makers of savory condiments, pepper sauces and fruit preserves, taps into its' rich Jamaican, Chinese and French culinary heritage to release a beautiful 270 page storybook cookbook, "Belcour: Jamaican, French and Chinese Family Recipes for Entertaining," available at www.belcourpreserves.com.
This unique cookbook features the most well-loved family recipes of chef and author, Robin Lim Lumsden paired with captivating stories of legendary entertaining among several family generations. From love stories and family gatherings to how her grandfather became co-founder of the iconic Red Stripe Beer company and more, this cookbook is an instant classic with its mouth watering imagery and effortless step-by step instructions.
"I've gathered an eclectic collection of recipes derived from my Jamaican, French and Chinese culinary heritage passed down from generation to generation, all using our preserves and condiments," says Lumsden. This cookbook will expand and diversify your recipe repertoire and help you create new, delicious and cosmopolitan meals that your guests will both savor and remember."
Belcour's Blue Mountain Honey, which is produced on its own apiary, is home to more than 75 bee colonies and is the signature flavor that sweetens all of the delectable tropical preserves, hot sauces and condiments. Each bottle is full of ripe, flavorful, Jamaican fruits, vegetables, herbs and spices that are cooked slowly, crafted with love and sourced from local Jamaican farmers.
Belcour will exhibit in booth #2168 at the Fancy Food Show in New York City June 29-July 1, with nine of its versatile gourmet condiments, including pepper sauces, fruit preserves and savory condiments. Learn more about Belcour Blue Mountain Preserves at www.belcourpreserves.com.