Terrapin Ridge Farms heats up the summer specialty food market with a delicious introduction of five brand new products and one new formulation of an existing product. These products will debut at the Specialty Food Association's Summer Fancy Food Show to be held at the Jacob Javits Center in New York City from June 29-July 1 at booth 3927.
Terrapin Ridge Farms has amassed a cult following behind many of their specialty mustards and the new flavors being released this summer are sure to follow that trend.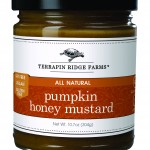 Pumpkin Honey Mustard (9 ounces with a suggested retail price of $7.30) combines the sweetness of pumpkin puree with cinnamon, ginger, nutmeg and allspice. When mixed with honey mustard the result is an incredible condiment that tastes like fall in a jar.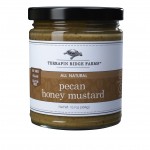 Pecan Honey Mustard (9 ounces with a suggested retail price of $7.30) marries the rich flavor of pecans with sweet and tangy honey mustard making for a perfect meat or vegetable glaze or simply as an accompaniment to cheeses, pretzels and crackers. Terrapin Ridge Farms' Brown Sugar & Pecan Mustard (8.5 ounces with a suggested retail price of $6.70) has been reformulated and is even better tasting with notes of sweet brown sugar and roasted pecans. All three mustards are all-natural and vegan, the Pumpkin Honey Mustard and the Pecan Honey Mustard are also gluten free.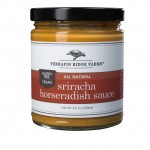 With the very popular emergence of its Sriracha Sauce last summer, Terrapin Ridge Farms is back with Sriracha Horseradish Sauce (8.5 ounces with suggested retail price of $6.70) that combines the popular spicy pepper with horseradish for a one-two punch of flavor and zip. This product is all-natural and gluten free.
Two new jams will debut this summer that combine sweet, savory and spicy. Cinnamon & Clove Tomato Jam (6 ounces with a suggested retail price of $8.00) is the perfect flavor combination of robust tomatoes, cloves, cinnamon and lemon zest. It makes for an excellent mashed sweet potato mix-in, on a crostini with goat cheese or on warm biscuits with butter. The Apple Horseradish Jam (6 ounces with a suggested retail price of $8.00) brings the sweetness of apple and a zing of horseradish together for a memorable journey for your taste buds. This jam pairs with strong cheeses like Manchego, or on sliced pork among other amazing applications. Both jams are all-natural, gluten free and vegan.
"We're introducing some very unique flavors at this show and we're confident consumers will adore these new products," said Terrapin Ridge Farms' CEO Mary O'Donnell.