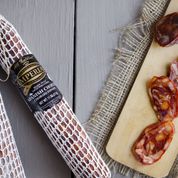 Pata Negra LLC will offer a taste of chorizo as it was made during an era in Spain before red peppers arrived from the new world in the 16
th
century. This
Imperial
Vela Blanco chorizo is dry-cured and features a gourmet mixture of premium American pork meat, garlic and other hand-selected spices. Because the chorizo is made without paprika, it features a milder taste and cooler color than the more common, crimson red chorizos –
like Imperial's Vela Mild and Vela Hot. 
"We want to bring chorizo making in all its authenticity to the United States," says General Manager of Pata Negra LLC, Ignacio Saez de Ibarra. "Our most recent creation takes chorizo making back to a time before paprika was available in Spain, producing a dry cured sausage that lends a milder taste for charcuterie enthusiasts everywhere. "
The Imperial line is carefully crafted under the guidance of master chorizo-maker Dr. Antonio Libran, a veterinarian expert with more than 30 years of experience in the food and Spanish cured meats industries. The team sources premium American pork meat, the world's best Spanish paprika and only the finest hand-selected spices. Each features a lengthy, dry-curing process to ensure all natural ingredients season slowly to lend each chub the authentic flair and flavor of old Spain. This Spanish artisan technique produces a signature bouquet and texture not found in mass-produced chorizo varieties, both domestic and imported.
The Imperial brand was introduced in 2013 and is crafted by a group of Spanish entrepreneurs who came to the United States to produce authentic, dry-cured chorizo that with each bite exudes the flair and flavor of old Spain.
Visit Pata Negra in booth #2320 during the Summer Fancy Food Show.