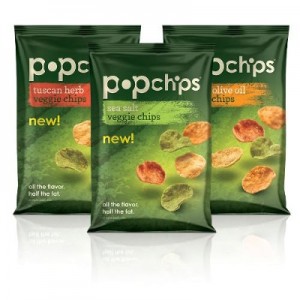 popchips inc., the innovative popped snack company, has launched the newest member to the award winning snack brand, popped veggie chips. the new great-tasting popchips veggie chips are popping up at retailers nationwide available in a 3-ounce bag.
After bringing the magic of popping to potato, tortilla, and corn, popchips has now popped a new crop of veggie chips. Veggie popchips blend nine popular vegetables – kale, spinach, tomato, pumpkin, potato, beet, bell pepper, navy bean, and chickpea – and tops them with zesty seasonings for three flavors:
sea salt: fresh from the garden flavor with a touch of sea salt
hint of olive oil: delicately delightful olive oil finished with a touch of sea salt
tuscan herb: mediterranean-inspired for a zesty veggie blend
"No snack time is complete without veggies," said popchips CEO, Paul Davis. "We are thrilled to be expanding our portfolio to provide snackers with the next generation of our popchips family. Inspired by some of today's most popular vegetables, we are really excited about our tasty veggie chips and showing our continued commitment to bringing  innovation to the snack aisle."
popchips veggie chips are popped the same way as potato, tortilla, and corn popchips – using heat, pressure, and no oil in the popping process. like other popchips, the new veggie chips have nothing artificial, no trans-fat, no dairy, are gluten-free, kosher, vegan, have less than half the fat of fried chips and still taste great.
New popchips veggie chips will be debuted next week at the Sweets & Snacks Expo in Chicago, May 20-22.