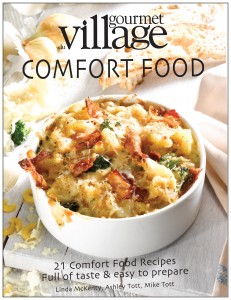 "Comfort Food" is a conveniently sized 48 page recipe book full of easy-to-prepare recipes. Each recipe offers two convenient ways to prepare; firstly the traditional way from scratch using store bought ingredients; the second, easier method, uses Gourmet du Village seasonings and mixes to simplify the whole process.
"We make the basics in your pantry or fridge taste great," says Mike Tott, President. "This is the principle we have followed in creating this recipe book. Each of the recipes is for single serve or for a couple; great for couples or students. Recipes included are for breakfast, appetizers, main dishes and desserts. Many use Gourmet du Village Bakers."
This new product along with the entire new collection of Gourmet du Village gifts can be seen at their showrooms in Dallas, Atlanta, and Philadelphia.