Robert Rothschild Farm announces its first complete line of organic sauces after recently achieving organic certification of its manufacturing facility in Urbana, Ohio. Robert Rothschild Farm produces sauces, dips, preserves, mustards, spreads and other gourmet products that are all natural, gluten free and kosher.
Robert Rothschild Farm grows and manufactures all their food on the Ohio farm, but is the first certified organic line. This new line of organic products will launch the beginning of a movement to convert the majority of the Robert Rothschild Farm's current product offering to be organic certified.
"We are conscientious of current healthy lifestyles and want to provide the consumer what they desire," said Jim Gordon, President and CEO of Robert Rothschild Farm. "We felt compelled to provide organic products that tasted great. Taste should not be compromised when seeking organic products using Non-GMO ingredients."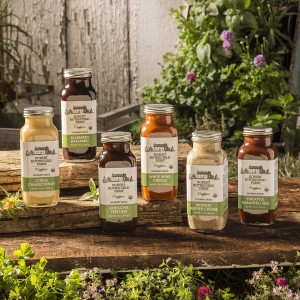 The new organic line of sauces was announced at the Summer Fancy Food Show on July 1, 2014 and includes Blueberry Balsamic, Citrus Chardonnay, Pineapple Habanero BBQ, Sriracha Teriyaki, Whiskey Pepper Cream and White Wine Creole sauces.

This year also celebrates Robert Rothschild Farm's 30th Anniversary of producing specialty foods. Robert Rothschild Farm is continually recognized as one of the top gourmet food manufacturers in the United States and has been honored with numerous awards for its branded product line, but the company also produces gourmet products under many private labels. Robert Rothschild products are carried in over 5,000 grocery and specialty stores throughout the US.
"Creating organic products shows our commitment, not only to high-quality, flavorful products but taking our company to the next level," said Gordon. "Organic foods are a growing market in which Robert Rothschild Farm is well positioned to produce and provide these essential products. We look forward to leading the specialty food industry and bringing our consumers the finest in organic, open and serve products that they have come to expect from us."