Among Friends, makers of delicious, all-natural, easy-to-make baking mixes is premiering three new hand-crafted baking mixes this year. In a world filled with snacks and treats lacking redeeming nutritional value or great taste, Among Friend's gourmet quality, whole grain, non-GMO baking mixes are a welcome, healthy and tasty addition to the $21 billion baking mix and prepared food production industry.
Among Friends' new hand-crafted baking mixes include:
Francie's Brownie Mix: Created for co-founder Suzie's daughter, these whole grain brownies are described as a sweet deep brunette, fudgy and friendly treat, appealing to all brownie-lovers.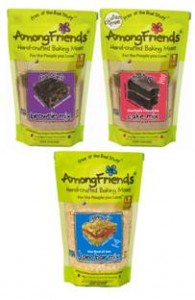 Gerry's Jam Bar Mix: Co-founder Lizann's husband grew up with classic homemade desserts, one of his favorites being jam bars. These vintage treats, marry hearty whole grains with sweet jam for a healthy, yet delicious dessert.
'Liv It Up Devilishly Chocolate Cake: When Suzie's picky daughter, who believes ketchup counts as a vegetable, insisted her name only be on the most perfect chocolate cake, it resulted in a flavorful, soft, creamy, gluten-free and devilishly chocolate treat.
These new mixes join Among Friends' line of easy-to-prepare baking mixes: Suzie Q's, Evan's Heavenly, Trish The Dish, CJ's, Phil 'em Up, and Shane's Sweet-n-Spicy.
"Our goal is simple: we want to help people fill their kitchens with fresh-from-the-oven baked goods made from the best ingredients," says Suzie Miller, co-founder of Among Friends.
About Among Friends®
Among Friends was created by two friends and mothers, Suzie Miller and Lizann Anderson, who founded the company in 2006.  Among Friends currently creates five cookie baking mixes and one fruit crisp mix, four of which are gluten-free and all of which are made with non-GMO ingredients.  Suggested retail price for each product is $5.99 per 13-ounce to 16-ounce bag.  Based in Ann Arbor, Mich., Among Friends produces its mixes in their new 10,000-square-foot facility with its own gluten-free certified production section.  Among Friends products are available for purchase at Safeway, Albertsons, Meijer, select Whole Foods stores, Lunds/Byerly's, Kings Markets, Plum Markets, New Seasons, New Frontiers and a number of other specialty food retailers, natural grocery stores, and supermarkets around the country.  Among Friends is now distributed nationwide through KeHE, Nature's Best and United Natural Foods, Inc. For online ordering and information about Among Friends visit www.amongfriendsbakingmixes.com.