By Zach Calvello
Frozen desserts experienced a 28.2 percent increase in sales over the past two years, making this the third-highest category for growth within the larger specialty foods industry. This is according to The State of The Specialty Food Industry, an annual report from the Specialty Food Association. Louise Kramer, Public Relations Director for the Specialty Food Association, attributes this rise in the popularity of frozen desserts to the amount of innovation being displayed by those involved in creating new frozen desserts. "There are many new and interesting products being released in the category of frozen desserts, such as non-dairy desserts, vegetable pops, soy-based products and indulgent desserts," said Kramer.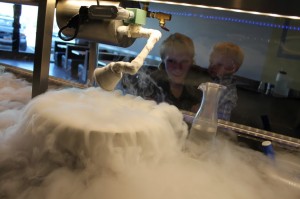 Jerry Hancock, founder and CEO of Sub Zero, and Scot Rubin, co-founder of Nitropod, not only share in the benefits of this growth within the larger frozen foods industry, but the pair are also both somewhat responsible for the innovative thinking that is stimulating the trend. This is because both Sub Zero and Nitropod make ice cream using a unique, specialized process that involves freezing ice cream with liquid nitrogen. Along with a small, select group of ice cream vanguards, including Iowa-based Blue Sky Creamery, Washington-based Flash Freeze Dreamery, California-based Smitten Ice Cream, Chicago-based iCream Café and a few others, Sub Zero and Nitropod have been working to transform the world of ice cream as we know it.
The process of flash freezing ice cream with liquid nitrogen results in a truly unique product. With a temperature of minus 321 degrees Fahrenheit, liquid nitrogen freezes ice cream mix in less than 15 seconds. Since this flash freezing process happens so quickly, milk molecules stay very small, and ice crystals do not have time to form. This results in the smoothest and creamiest ice cream possible. In addition, the process also preserves more of the natural nutrients in the finished product.
Neither Sub Zero nor Nitropod were the first to use liquid nitrogen to flash freeze ice cream. This honor belongs to culinary pioneer Theodore Gray. "Theodore Gray's article made the possibilities known. However, our uniqueness lies in our process," says Hancock. Instead of combining liquid nitrogen and ice cream mix in intervals, Sub Zero combines everything at the same time. This creates what Hancock calls "the lake effect," allowing Sub Zero to cut each layer of ice cream, one by one, as it freezes.
Nitropod's Rubin praises flash frozen ice cream for its particularly smooth and creamy consistency. He delivers liquid nitrogen ice cream to his loyal Los Angeles-based customer base in a specialized ice cream truck. Rubin believes liquid nitrogen is an important element that helps him to create a truly premium product, although he argues that it takes a deft touch to ultimately master the frozen dessert. "Liquid Nitrogen is great," he says. "It makes for smoother and creamier ice cream. But it can't be the only factor in making great ice cream." Rubin counts Nitropod's chef-inspired flavors and ingredients sourced from local artisans as two additional factors compelling his company's success.
One of the benefits of freezing ice cream on the spot is that each customer has the option of including or excluding every element that makes up the final product. This sort of customization allows ice cream producers to cater individually to each customer's dietary needs. "It starts with the milk, where we have low-fat, almond and non-dairy choices," says Hancock. The company even lets customers bring in their own ingredients to add to the mix, making for a fun and individualized ice cream experience.
Rubin looks forward to eventually bringing liquid nitrogen-frozen ice cream to retailers. "Retailing is phase two of [Nitropod's] plan," he says. The ice cream entrepreneur thinks he will eventually be able do this without changing his company's current flash freezing process. "There are those that love to watch the ice cream being made, and then there are those who just love it for the taste," he says. "Sometimes there is a substantial wait time at Nitropod, so we want to be able to provide for people that just don't have time for that."
Still, despite how decadent the final product is, it is the science behind flash frozen ice cream's production that is often the first thing to draw consumers to sample the product. And it is the science that ultimately inspires the team at Sub Zero to innovate the frozen desserts industry. "Science is the driving force behind our product," says Hancock.
 Click here for more companies who are blazing new trails in frozen desserts.