Coming off a successful exposition of its newest gluten-free pizza at Natural Products Expo West in March, Sonoma Flatbreads by Donatos® is continuing to rise. The emerging new brand will exhibit at the Gluten & Allergen Free (GFAF) Expo in Schaumburg, Ill., on April 12-13, 2014. The Gluten & Allergen Free Expo, which attracts more than 20,000 gluten-free and allergen-free consumers each year, is hosting the first iteration of its six-city tour this year in the Chicago area. The expo features presenters who are experts in the gluten and allergen free space and is touted to be the largest gluten free exposition in the United States.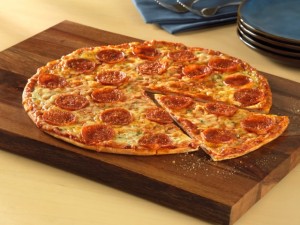 Appealing to everyday and gourmet pizza lovers alike – and to those who like to personalize their pizza – the newest offering to join the Sonoma Flatbreads line of gluten-free pizzas is Chicken and Fire Roasted Peppers. This 12-inch pizza has a net weight of 18.88 ounces and includes a special crushed red pepper spice packet.
Exhibiting at Gluten & Allergen Free Expo is timely for Jane's Dough Foods, an independent, family-owned company celebrating more than 50 years of business, as the company is innovating the way consumers think about gluten-free pizza. "We are redefining gluten-free pizza by combining the flavors and ingredients that speak to today's consumer with 50 years of restaurant industry know-how," says Alan Hoover, General Manager of Jane's Dough Foods, maker of Sonoma Flatbreads. The pizza features antibiotic-free chicken that was fed a vegetarian diet and is minimally processed. The pepper trio includes fire roasted green, red, and yellow bell peppers. A rich tomato sauce and lightly smoked provolone round out the offering. Made with "simply honest ingredients," there are no artificial flavors, colors, or preservatives in any of the Sonoma Flatbreads line. Each serving of the new pizza flavor provides 14 grams of protein. The suggested retail price is $8.99.