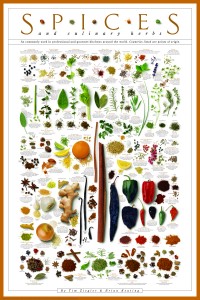 The second edition of the SPICES Poster, a 24-inch x 36-inch full-color poster illustrating 189 spices, herbs, capsicums and seeds, is now available through MondoFood.com.  Designed by Chef and Spice Master Tim Ziegler and Tea King Brian Keating, the "SPICES Poster" is used in restaurant kitchens and culinary schools around the world and now available to the general public.
An ideal gift for everybody from beginner cooks to top chefs, the "SPICES Poster" is both an excellent reference tool and a colorful decorative piece that will liven up any kitchen.  The poster beautifully depicts an international array of spices, offering descriptions, flavor profiles, recipe applications and countries of origin for each one.
"Brian and I developed this poster to give professional chefs, gourmands and home cooks a worthwhile resource on these wonderful ingredients," says Ziegler. "Whether you're trying to perfect your pasta sauce or trying to make an Indian curry for the first time, you can refer to the SPICES Poster for inspiration in creating new flavor medleys.  We think it's a great learning resource and, thanks to the photography of Lois Ellen-Frank, a beautiful art piece as well."
The "SPICES Poster" retails for $27.99 at MondoFoods.com/spiceposter, but Gourmet News readers can receive 15 percent off by using the discount code "condiment."
Denver-based Chef Tim Ziegler ("Chef Zieg") is the Chef Behind the Chefs. For more than 25 years, Chef Zieg has immersed himself in the world of spices and, as a result, is now the go-to expert among restaurant chefs seeking proprietary flavor blends.  Chef Zieg is also Spice Master & Blender for Italco Food Products' Gran Cucina™ Spice Division.
For more background on how celebrity chefs are experimenting with spices, see the story here.