Rejoice in a day of chocolate filled happiness during this year's Chicago Fine Chocolate & Dessert Show, a celebration of all things chocolate—and this year, dessert! Chocolate lovers can visit Chicago's Navy Pier and fine restaurants starting October 13 to support Chicago Chocolate Week, a celebration benefiting the show's charity partner, Icing Smiles Inc.
Icing Smiles, a nonprofit organization, is devoted to providing a temporary escape and positive memory for children and their families who are impacted by critical illness with cakes!  The company provides critically ill children with beautiful custom creations for special occasions, donated by local bakeries and pastry chefs.
Kicking off the annual Chicago Fine Chocolate & Dessert show was the first-ever Room for Dessert dinner at Storefront Company, a night benefiting Icing Smiles! An elite group of chefs with the sweetest jobs in the city gathers Monday, Oct. 14 for an event you don't want to miss. From the finest hand-painted artisan bars and uniquely-flavored truffles to decadent chocolate cakes, tarts, mousses, and more, guests will experience the world of chocolate. Their creations will be paired with wines and savory bites in between!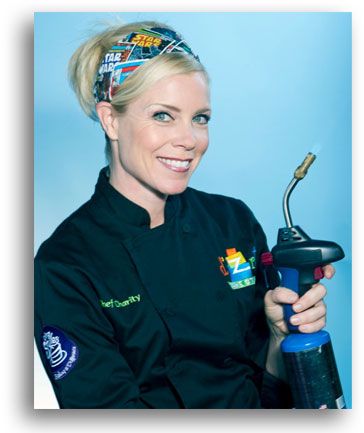 During the Icing Smiles' Cake Arts Gallery, six amazing show-stopping cakes by area sugar artists will compete for the People's Choice award in a timely themed Halloween, Fall and Kids competition. During the show, Icing Smiles will have a competition features a showpiece cake competition in the Gallery for a People's Choice Award. Chef Charity from Icing Smiles will be there making her amazing cake creations as well!
Attendees to the Gallery use donation dollars to vote to raise money for their mission.  The entrants this year are all amazing sugar artists including Bob Brougham from The Cakery, Inc.; Mark Lie from A Piece of Cake; Michelle Boyd from Good Gracious Cakes and more!
Icing smiles has the golden ticket for the finest dining experiences in Chicago! Satisfy your sweet tooth with decedent dessert creations at participating locations including Acadia, Little Market Brasserie, Sable Kitchen & Bar, Tavernita and more all next week until Sunday, October 20 and 10 percent of proceeds will be donated to Icing Smiles!
Icing Smiles has been baking a difference since 2010. They understand that the simple things, like a birthday cake, are luxuries to a family battling illness. Their goal is to create a custom cake for the ill child, or their sibling, that provides a temporary escape from worry and creates a positive memory during a difficult time.