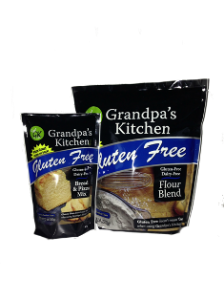 Grandpa's Kitchen is owned and operated by the Shrock family in Ogden, Utah. When they were diagnosed with celiac disease in 2004 they did not know how many other people struggled with the same disease. What they did know is that they felt better living a gluten-free lifestyle and wanted to share what they found with others. At first, the family tried a variety of gluten-free products, but found it an unsatisfactory experience because of the lack luster taste, texture and consistency. They began to experiment with home-made recipes and gluten-free flour mixtures and were able to create a blend of flours which produced an edible, delicious, moist bread. This inspired them to launch Grandpa's Kitchen in 2007, with the first product being a gluten-free bread mix.
Today Grandpa's Kitchen continues to manufacture the bread mix, which is now a bread/pizza crust mix. The family also publishes their "Family Favorites" gluten-free cookbook to help others realize how easy cooking gluten-free really is and how good it can taste. They are very excited about their gluten-free baking flour which is a perfect combination of flours and starches blended to give delicious results as a cup-for-cup wheat flour replacement.
Customers continually send emails telling Grandpa's Kitchen how long it has been since they had a good piece of bread and how much they love Grandpa's Kitchen gluten-free baking mixes. The Shrock family hear stories every week about the benefits others have found by living a gluten-free diet.
Grandpa's Kitchen gluten-free mixes are available at leading grocery retailers, food services, organic and natural food retailers, food catalogs and online. Find a store at www.grandpas-kitchen.com. Grandpa's Kitchen loves to get emails (grandpaskitchen@gmail.com) and will respond to questions anyone has about celiac disease, living a gluten-free lifestyle or about their products.